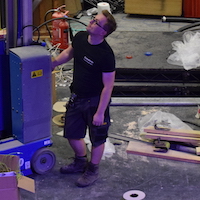 John Evans is a Venue Consultant at Arup. Working in a multi-disciplinary team with architects, engineers and designers, he specialises in the design and commissioning of complex technical systems for performance venues and studios.
As a consultant:
With an academic background in physics, a practical background in theatre, and a wide variety of other experience including electrical installation, electronics design, and musical performance, this breadth of experience allows John to confidently engage at any level from high level planning to detailed design of venues and systems.
His particular skills include lighting, audio, and video systems design, development of specifications and tender packages, Revit modeling and schematic drawing. He contributes to the wider strategic planning and design of performance venues as part of Arup's client-focused, holistic approach to arts and culture.
John has worked with clients including the BBC, the Royal College of Music, Leeds Beckett University, and the University of Liverpool.
As a theatre technician:
Previously he was Technical Manager at the ADC Theatre, overseeing a major refurbishment of backstage systems and the auditorium. John has a wide range of skills in theatrical venue management and engineering, including power distribution design and certification, portable appliance testing, CAD drawing and project management. John has held a First Aid at Work certificate, an IPAF PAL 3a/3b card, a CSCS card, and a City and Guilds 2382-15 Requirements for Electrical Installations certificate.
John has a wide range of lighting, sound and AV engineering skills, including extensive experience on a several ranges of digital consoles, QLab programming, wireless frequency coordination, Dante network setup and d&b system configuration.
As a designer:
John has a variety of practical design experience, including multiple stints at both the Edinburgh Fringe and Buxton Fringe, and a number of credits on a wide variety of fringe and amateur productions: highlights include Sound Designer & Mixer on The Ruby in The Smoke, The Wind in the Willows, The Phantom of the Opera, Singin' in the Rain, Passion, Noises Off and Assassins; and Lighting Designer on A Doll's House, Orlando, The Furies, Arcadia and Nineteen Eighty-Four.
Other recent projects:
Hurstbourne Forge

The Forge is a local family business creating custom metalwork and homewares; John supported them with installation and upgrade of their electrical systems at their first workshop, and also at their new larger industrial unit.

Lighting controller

John designed and constructed a custom DMX lighting controller for the ADC Theatre Bar, with a sound-to-light party mode, DMX input/merge and remote control panel. This project involved case design, electronics and PCB design, as well as creating custom software using FreeRTOS and esp-idf.

Livestreaming install

During the summer of 2020 John assisted the ADC Theatre with installing Blackmagic cameras, SDI infrastructure cabling and facility panels in the auditorium to enable livestreaming of performances during lockdown.